TEZA Combi Target Device

Back to category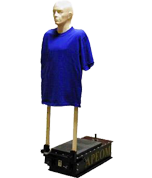 TEZA Combi target device enables a realistic shooting practice with short and long small arms with live ammunition or with laser simulators. The target hit evaluation / zone hit sensor in two alternatives by target fall or by 180 ° target turn. The system enables a mobile installation at outdoor and indoor military and police shooting ranges and at ranges intended for a special training. The TEZA Combi device is powered from 24V inbuilt accumulators, and it is controlled wireless by the control unit. The electronics with integrated processor enable software changes, as for example additional treatment of target lift operations, according to specific client's requirements. The target lift jack can be equipped with ports for night lighting, hostile shooting simulation and with ports designated for laser trainers and for pyrotechnics. In basic version, the lift jack is equipped by electronic hit indicator of standard targets, introduced and utilized by Police and Armed forces of the Czech Republic. For special training, it is possible to equip the lift jack by three-dimensional polymer targets with a zone hit sensor. The driving unit with electronic control ensures a high reliability and low operating costs. The integrated unit of intelligent loading regulation prolongs the service life of inbuilt accumulators. The applied materials and TEZA Combi device's surfacing technology guarantee a long service life in conditions of hard operation of training equipment in possession of Police and Armed forces of the Czech Republic.
Technical parameters:
| | |
| --- | --- |
| Dimension (WxHxD): | 85 x 35 x 20 cm |
| Weight: | 45 kg |
| Drive unit: | electric motor |
| Power supply: | inbuilt accumulator |
| Operating: | wireless, by control unit |
| Operating reach: | up to 500m |
| Lift functions: | put down/lift after the hit / put down/lift on command / turn on command / lift jack functionality self test / accumulator self test / night lighting / hostile shooting simulation / other, according to requirements |
| Operating temperature: | -15 °C to + 45 °C |
Interested in our product?